USAF MSgt. Tom Johnson (Ret.) can't talk about the work he did while active duty, nor in his later civilian career. His security clearance prevents him from uttering anything more than hints about the stealth flight technology he helped deploy before military retirement.  After 20 fulfilling years in the Air Force, his last assignment was at Malmstrom AFB, in Great Falls, Montana.
The other reason he can't discuss any details surrounding his career is that in 2016, at age 60, he suffered a traumatic brain injury as the result of a stroke. The stroke damaged his temporal lobe, specifically affecting speech. In an instant, Tom lost most of his ability to verbally express himself.  While his speech and some of his balance were impacted, Tom is otherwise healthy.  Yet, because he cannot talk, it is a challenge to live as he had prior to his stroke. 
Affecting millions of people, each year
Every nine seconds, someone in the United States sustains a brain injury, such as a stroke.  There are a variety of causes, from an external trauma to the head, like falling, or an internal brain injury from a stroke like Tom experienced.  
More than 3.5 million adults and children sustain an acquired brain injury (ABI) each year.  However, because many people don't realize they experienced an injury to their brain, the total rate is unknown. Estimates, based on all-cause hospitalization rates and mortality rates, indicate that 5.3 million Americans live with brain injury-related disabilities at a cost exceeding $82 billion annually.
Every May, we recognize Stroke Awareness Month. It's our opportunity to honor those, like Tom, who are surviving and thriving after such an injury. Our hope is to educate others about stroke and brain injury to better understand the lives of people who are injured—as well as their families. While it is often a life-altering experience, there is hope.  Consistent outcomes demonstrate that people can flourish and thrive following stroke or brain injury. 
Traumatic brain injuries by the numbers
There are many causes of traumatic brain injury:  
Falls (40.5%)
Struck By or Against (15.5%)
Motor Vehicle Accidents (14.3%)
Assaults (10.7%)
Miscellaneous or Unknown (19%)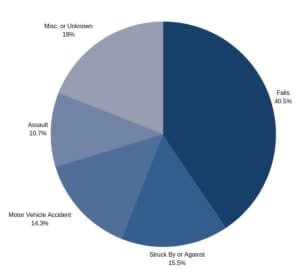 When someone sustains a TBI, so many people are affected. Along with the survivor are caregivers, friends, family, as well as medical providers, employers, and members of the neighborhood or greater community.  Everyone will be touched as they learn and adapt to the "new normal" in the lives of those who experienced a TBI.   
Following his recovery, Tom chose to live at Patriots Landing, in DuPont, WA.  Our community is well-suited to meet his needs, allowing him privacy and a range of activities that are so important to him and others in his circle of family and friends.  Today, Tom is busy in a host of daily activities and lives life his way. He is a vital, well-regarded member of our community.
If you would like to learn more about the effects and therapies available for traumatic brain injury, the Brain Injury Association of America offers an array of information and support.
If you need options for yourself or your loved ones
For short stay rehabilitation, Mission Healthcare offers peace of mind and rehabilitation between the hospital and home.  Careage Home Health delivers expert rehabilitation and skilled care when it's appropriate for you or a loved one to recover at home. Our Careage communities not only have exceptional service and amenities, but also a variety of housing options located on one campus, such as at The Lakes at Banning, Patriots Glen, and Patriots Landing.  Our communities share the goal of ensuring residents enjoy peace of mind, knowing you will be well cared for as your health needs change.