Each day, the nutrition teams throughout our Careage family of communities prepare healthy meals for our patients, residents, and guests without sacrificing taste.  Recently, Mission Healthcare launched a new "Foodie" recipe series.  Healthy+Delicious offers easy-to-make recipes that taste good and are also good for you!  Never one to be outdone, The Lakes at Banning decided to jump in with both feet. 
Our Nutrition Services Director, Billy Davis, wanted to share some of his wisdom about reading food labels.  Anyone who has ever tried to decipher nutrition facts on a food box or bag knows that food labels can be confusing when you're committed to a healthy diet. He offers a few nuggets (though not of the chicken variety) for you to keep in mind the next time you are at the grocery store: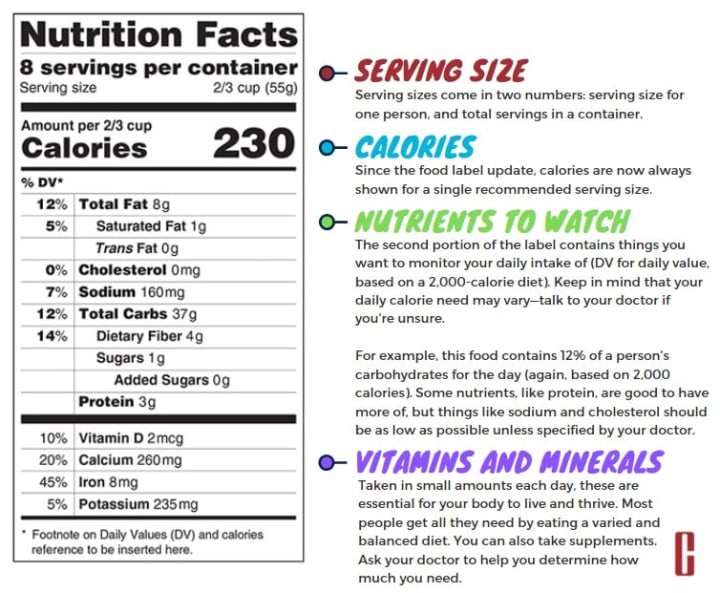 Deciphering serving size against total servings in a package or container can be downright maddening!  As Billy lamented recently while reading a food label, "Only three cookies from a two-pound package constitutes a serving? Seriously!" Remember to check the serving sizes or quantities, per package, before chowing down on that whole box of cookies.
It's important to keep in mind that calories are just one part of the equation—nutrients also play a key role.  Look at the total percentage of nutrients like protein, carbohydrates, sugar, sodium, and dietary fiber.  Your doctor can help you decide the right mix. 
While most people get all the vitamins and minerals they need through what they eat, many choose to take supplements.  Again, Billy encourages you to work with your physician to determine how much you need each day.  At different stages of our life, the proper daily amount of minerals such as calcium and potassium are critical to our good health. 
Creating great meals starts with great ingredients and thoughtful recipe preparation, but it's not difficult to do! With a few simple steps, we can help you ensure that healthy is also delicious. Stay tuned to our Facebook pages over the coming weeks with more Healthy+Delicious recipes that we serve at The Lakes at Banning and throughout our Careage family of communities.  Keep your eyes open on Fridays when we share recipes we have adapted to suit your family at home!
If the time has come to stop worrying about meal preparation, or if you are constantly looking for recipes just-for-one, learn more about how you can continue to live life your way at The Lakes at Banning, Patriots Glen, and Patriots Landing. If you need care but are not ready to leave home, consider Careage Home Health—or if you need short term post-acute rehab, look into Mission Healthcare.  We are here to help you remain healthy and independent for a lifetime.